uPOS
The Parking Telecom Unattended Point of Sale (uPOS) is an easy and flexible unattended parking payment solution.
QR code, RFID, License Plate Number based payments. Provides coin, bill, EMV chip and Contactless (including NFC) card acceptance 24/7.
State-of-the art energy-saving 15" LED touch screen display with backlight, which uses less electricity to operate.
Designed for "touch" with proven quality and reliability.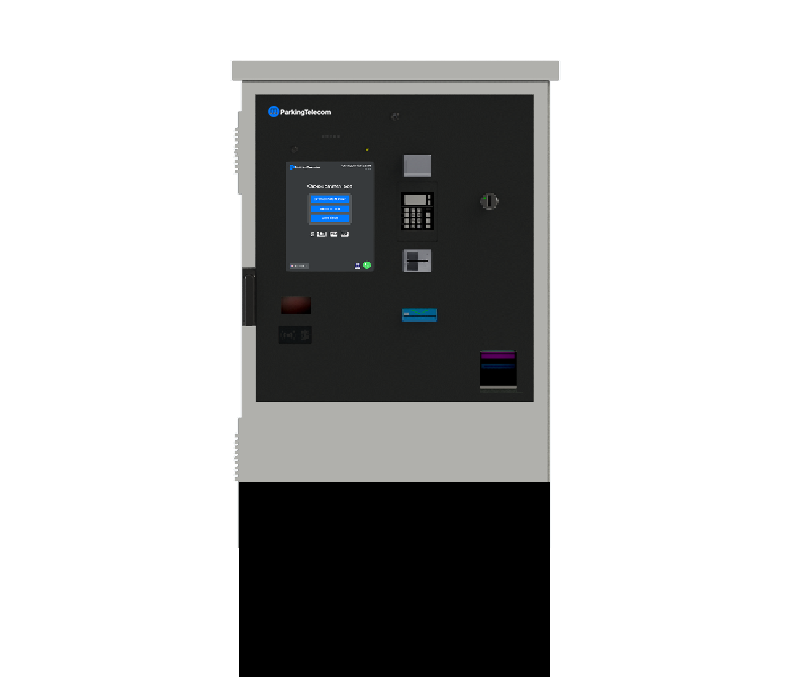 Cash Payments
Cash Payments, including escrow. Superior MFT coin validation technology. Can be set up to accept coins and/or bills with the additional option to recycle coins and/or bills. The system can accept and sort up to 5 different coin enominations and to recycle all 5 coin denomination. Bank-note acceptor with a capacity of 600 notes or a Bank-note recycler with a 600 notes capacity, able to recylce 2 bank-note denominations.
QR Code Scanner
QR Code Scanner with high visibility LED aimer: Laser-free aiming provides an accurate scan indication, creating a customer friendly operating environment while removing the risk of eye injury.
Mobile Phone Reading: Easily scans bar codes directly from mobile device, almost as if they were printed on paper.
Excellent performance on decoding poor or damaged QR codes. Outstanding near-field QR reading and omnidirectional reading. Advanced motion tolerance optics. Integrated good-read beeper.
Unattended Bank Card Terminal
Unattended Bank Card Terminal provides EMV chip and Contactless (including NFC) card acceptance 24/7.
Multi-bank capability enables easy on-boarding to multiple acquirers without the cost of removing and reprogramming hardware.
Receipt Printer
Receipt Printer with Industry leading print speed of up to 220mm/s and higher reliability at an MCBF of 60 Million Lines.
Adjustable print widths of 45 mm – 82.5mm. Large Paper Roll supporting up to a 254 mm | 10" paper roll for many hours of unattended operation.
Innovative looping presenter prevents paper jams by printing the receipt or lost ticket in full before providing it to the user.
Innovative and ergonomic design
Aluminum and stainless steel housing
15″ high brightness vandal protected display, including
light sensor
Intelligent Temperature Monitoring and Control
ADA compliant cloud SIP Intercom – Voice & Video as an
option
Switch between different languages
Discount Functionality
Lost Ticket Functionality
PARKING TELECOM uPOS
TECHNICAL SPECIFICATION
100 to 240 V AC
50 - 60Hz
LCD Technology
Diagonal Size
Native Resolution
Aspect Ratio
Viewing Angle
Contrast Ratio
Active matrix TFT LCD
15"
1024 x 768
5:4
Horizontal : 160° / Vertical : 160°
1000:1
Bank Terminal
Banknotes
Coins
Two-interface payment acceptance : Smart Card Reader, Contactless Card Reader
Scan Pattern
Reading Indicators
Reading Ranges
Area image (838 x 640 pixel array)
Beeper, Good read LED
10 mil: 4.7 cm to 21.6 cm I 1.9 in to 8.5 in
Operating Frequency
Typical Maximum Read Range
Indicators
Power Supply
Interface
Dual 125 kHz and 13.56 MHz
2.5 - 7.6 cm | 1.0" - 3.0" dependent upon proximity card type and environment
Tri-state LED, dual tone beeper
USB Self-powered; PoE
USB, Serial RS-232, Ethernet
Paper Width/ Thickness/ Diameter
Print Method/ Speed
Ticket Presenter
Bezel
Sensors
80 mm | 3.15" / 0.06 mm to 0.15 mm / Max 254mm
Direct Thermal / Up to 220 mm/sec I 8.66 in/sec
Loop presenter
Flashing LED bezel
Near-end paper sensor
Ambiant Temperature
Relative Humidity
Proetction Class
-20˚C to +50˚C I -4F to +122F
Max. 95% non-condensing
IP54
Housing Design
Base frame
Compliant with
Color
Powder coated aluminum and stainless steel
Stainless Steel
2004/108/EC, 2006/42/EC, 305/2011, CE, UL 325
Signal White RAL9006 and Black Anthracite RAL 7021
575 mm x 526 mm x 1662 mm I 22.6 in x 20.7 in x 65.4 in
*Performance may be impacted by bar code quality and environmental conditions
Copyright © Parking Telecom Labs. All rights reserved.

*Performance may be impacted by bar code quality and environmental conditions

Copyright © Parking Telecom Labs. All rights reserved.